Auto Maintenance Industry
The automotive industry is a wide range of companies and organizations involved in the design, development, manufacturing,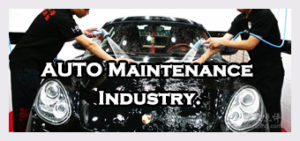 marketing, and selling of motor vehicles. It is one of the world's most important economic sectors by revenue. The automotive industry does not include industries dedicated to the maintenance of automobiles following delivery to the end-user, such as automobile repair shops and motor fuel filling stations.
The term automotive was created from Greek autos (self), and Latin motivus (of motion) to represent any form of self-powered vehicle. This term was proposed by SAE member Elmer Sperry.

The following hoses can be applicated to auto maintenance industry: