Product:
Description: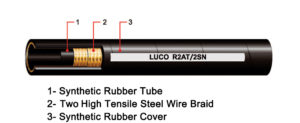 High Pressure Steel Wire Braided Rubber Hose
Application:
It is suitable to carry hydraulic fluids, such as hydraulic oil, fuel oil, lubricants, emulsion, glycol and water, etc.
Construction:
This hose is composed of an inner tube of oil synthetic rubber, two wire braided reinforcements, and an oil and weather resistant synthetic rubber cover.
Temperature:
-40℃ ~+ 100℃ (-30°F ~+300°F)
Notice:
Hose length and color offered upon customer request.