LUCOHOSE® Quality Industrial Hose Manufacturer
Industrial hose flexible hose also named industrial rubber hose. It is mainly used for various industry equipment for software to connect. Compared with rigid tube, the industrial rubber hoses have the same excellent flexibility performance.
Compared with civil rubber hoses, the industrial work have more complex and worse environment. The equipment is more strict to transport hose. Therefore industrial hose has a strict norms and standards from the design, material choice to the production, transportation, and even the final store.
The industrial rubber hose dimensions have a widely range of choice, widespread pressure and temperature and the higher chemical resistance.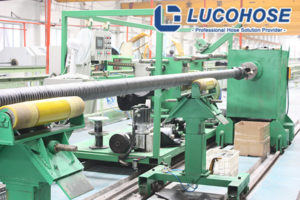 LUCOHOSE industrial hose applications covers all industrial production and circulation field, widely used in petroleum, chemical industry, ship, dock, tank car, agriculture, food, beverage, etc, as well as the hot and cold water, steam, ventilation, cooling, fire protection, hydraulic, medium such as air, water, fog, mud, sand, iron grain of all aspects and so on.
LUCOHOSE manufacture quality Industrial rubber hose and export to customers from all the world and create more value for them. Welcome to choose LUCOHOSE quality hose products and we're ready to serve you.